At Fairham Mouldings we pride ourselves on our professional approach. This approach enables us to provide a comprehensive single source facility, combining in-house design and component manufacture. This not only makes it a smoother process for us, but it means we can deliver faster and more efficiently to you.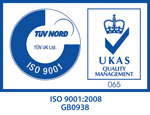 We understand that flexibility is a key factor in providing our customers with the best possible service, something that would be impossible to achieve without an effective
quality management system – something we have been recognised for having by UK accredited certification body, TUV Nord.
Our management system was found to be operating in compliance with the requirements of ISO 9001:2008 Standard, a certification highlighting our competence and performance capability. The accreditation is based on a several quality management principles including strong customer focus, the motivation and implication of top management, the process approach and continual improvement.
Fairham Managing Director, John Fairhurst said of the certification "This certification emphasises our passion and commitment to quality, ensuring our customers receive a consistently excellent product and dependably first-class customer service."
If you would like to learn more about how Fairham Mouldings could help your business give us a call on 01254 663642 or visit our Contact Us page.